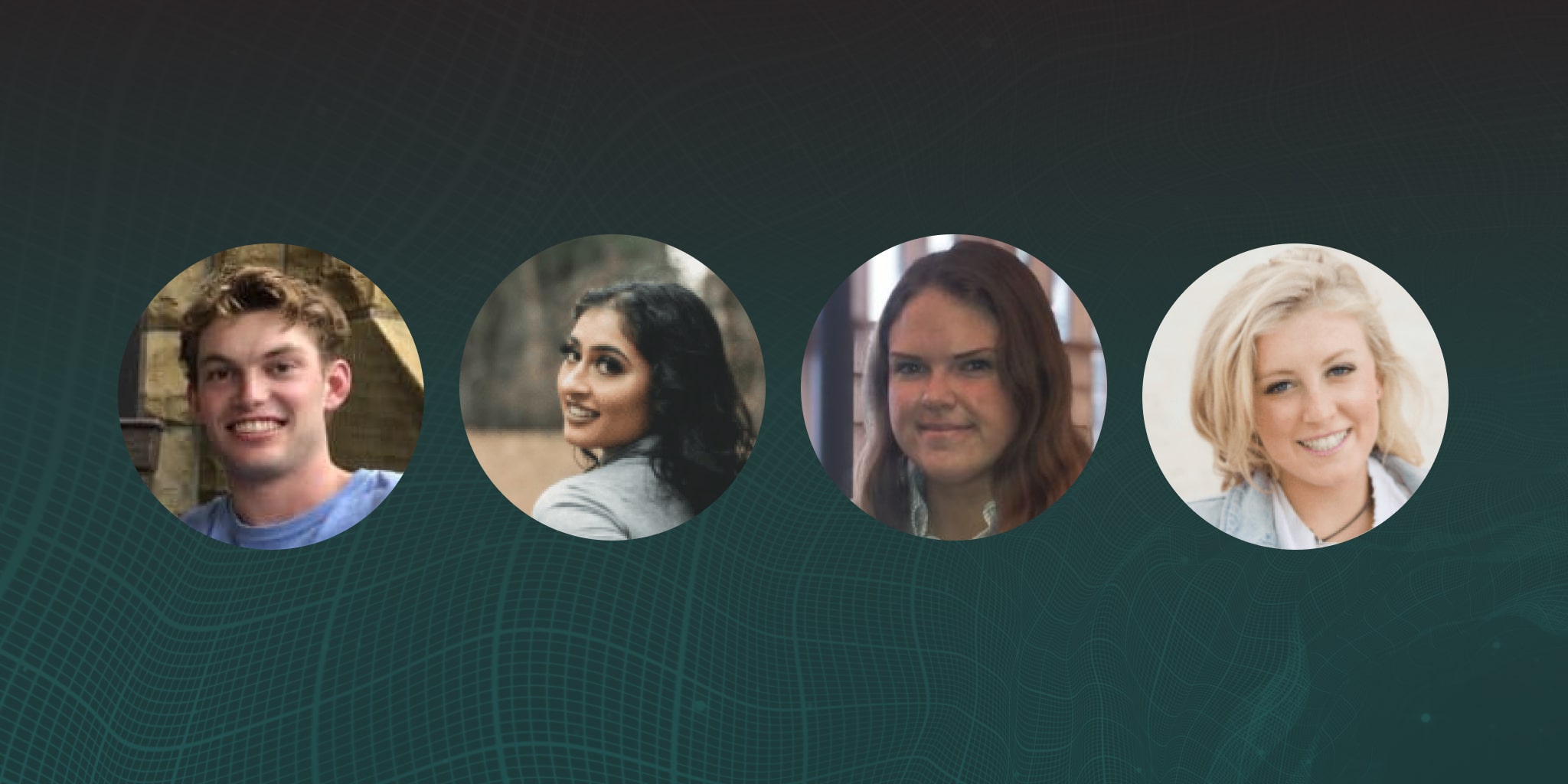 Pre-pandemic, we all had our lives planned out. Summer vacations were booked, concert tickets were purchased and we even had preparations for Google Cloud Next '20. For students and graduates who were looking forward to using their skills in a professional setting, they had internships secured as early as fall of 2019. But as we all know how this story goes, COVID-19 had other plans for us.
At AtScale, we were thrilled to have our interns stay on board and adjust to a remote lifestyle with our team. While the summer comes to an end, four of our interns reflect on what they've learned this season with us. 
Name: William Tully
School/Year of Graduation: Denison University, Global Commerce, 2019
Role at AtScale: Business Development Intern
What I've learned during my time at AtScale: I've learned to ask better questions when connecting with customers. With these skills I can better understand the pain IT is experiencing and how those issues impact the business. Understanding the pain is crucial when helping those we work with reduce the costs of analytics, free up time to get to new projects, and increase annual revenue.

I have also enjoyed setting meetings with data providers who have helped the AtScale team build a new data insights marketplace which includes workbooks. The workbooks provide pre-built dashboards for immediate insights. You can check out the results of this project here.
Name: Mahika Saxena
School/Year of Graduation: University of Massachusetts Amherst; Communications Major & Certificate in Social Work and Social Welfare, 2021
Role at AtScale: Marketing Intern
What I've learned during my time at AtScale: A few things I have learned at AtScale have been how to use different marketing tools like OptinMonster, Marketo and Sales Navigator on LinkedIn. I have also learned so much from my marketing team as well. They each bring their creative and unique minds to every meeting which is very inspiring. Laurel Ackerman has especially helped me get better at writing different kinds of marketing emails and has given great tips and tricks on using pivot tables in Excel.
One project I worked on with Mary O'Hara was testing out different subject lines for our June Webinar invite emails and seeing what the open rates were based on a few variables.
Name: Mary O'Hara
School/Year of Graduation: University of New Hampshire, Communication, 2021
Role at AtScale: Marketing and Sales Intern
What I've learned during my time at AtScale: Throughout my internship with AtScale, I continue to learn how exciting the big data analytics industry is. This experience taught me there is so much opportunity for the improvement of data modernization, analytics enablement, reduction of complexity, and control of cost so data can become an asset and make BI work faster within the modern enterprise.
The team at AtScale are some of the most talented and hard-working individuals I have come to know. Standing between our marketing and sales team, experiencing their operations, and learning about their goals has been the most interesting and unique part of this internship.
One project I loved was inviting analytics leaders to participate in our Spotlight Series; you can find the blog I authored for our interview with Home Depot here.
Name: Audrey Somers
School/ Year of Graduation: Boston College, Communication, 2021
Role at AtScale: Marketing and Social Media Intern
What I've learned during my time at AtScale: While I believe that I have learned a lot throughout my time at AtScale, I think the most important lesson has been all about design. Whether it is setting up a blog post or actually creating content, my manager, Kayla Chiara, has taught me that design is what gets the people interested. The way you phrase your social copy or fill a Twitter image, design is in every aspect of a company and it is important to hone those skills early on.
Despite not having gone into the office this summer due to COVID-19, I was still thrilled at my experience at AtScale with both the team and the projects. On the first day of my internship, I had already sat in on four different meetings and felt a part of the work. This feeling only grew as more projects were sent my way than I originally thought would be (in the best way!). No one here was seen as lesser than another, in fact, the interns were given so much responsibility and work that it made you feel important.
For example, I was able to co-write multiple blog posts this summer that were then added to the actual AtScale blog page, which I believe is a rarity for many internships.
On behalf of the AtScale team, we would like to thank all of our interns for their hard work and for adapting to a remote work environment with us this summer!