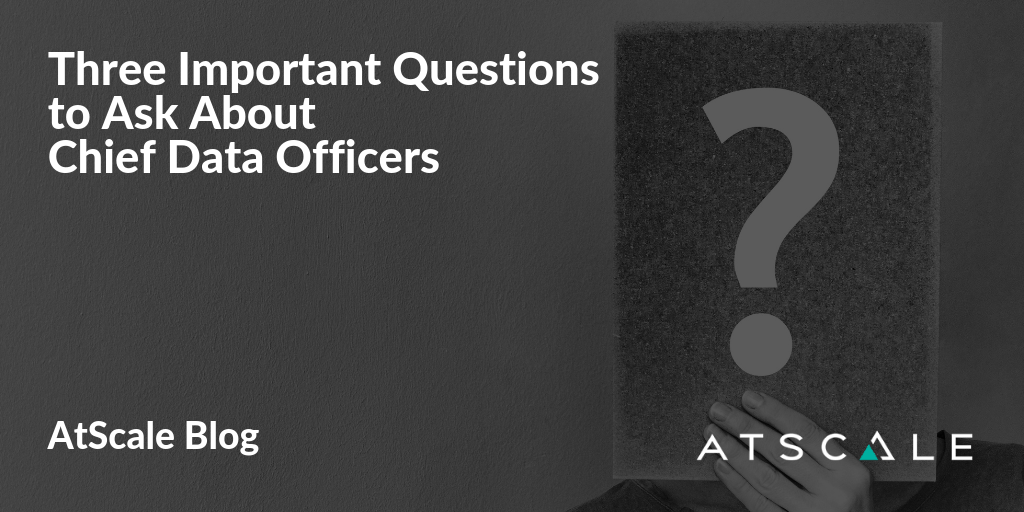 Disruptive technologies inevitably lead to the emergence of new job functions across all levels of an enterprise. The emergence of cloud computing is no different. Companies are positioning themselves to take advantage of the benefits cloud computing provides and with that comes the dawn of a new job title, the "Chief Data Officer".
The Chief Data Officer is one such role that although relatively new has quickly become seen as essential by most large organizations. NewVantage Partners, a leading advisory firm, notes that the percentage of large enterprises employing a CDO has risen from 12% in 2012 to 63.4% in 2018. While NewVantage's research focused on the financial services industry, CIO online is even more bullish on the future of the role across all industries, arguing that by 2019 ninety percent of large companies will employ a Chief Data Officer.
Chief Data Officers drive cloud transformation projects
Why has the Chief Data Officer role become so important?
There are multiple answers to this question, but the most basic explanation is that technology has empowered companies with the ability to store vast quantities of data. Executives are well aware that their organizations can leverage massive amounts of data to deliver insights that will yield material business results. For example, financial services companies can use customer data to mitigate fraud risk and to determine what products to offer to different individuals. Retailers can use large amounts of data to make decisions about which products and locations are performing best, and which areas need improvement.
Who is a Chief Data Officer?
If there is a consensus on the need for CDOs, and a general idea of why this role came to exist, is it a fair assumption that we know what type of background makes a good CDO, and what the role's primary responsibilities are? Not exactly. Both New Vantage and CIO Online found that while many respondents advocated for CDOs to be external change agents, an equal amount of respondents preferred a company veteran. Although there is a healthy debate around whether a CDO should be an internal or external hire, more agreement seems to exist around a CDO's optimal skillset and previous job functions. The majority of Chief Data Officers have an engineering, math, or data science background, while a small minority have marketing and line-of-business backgrounds. CIO Online cites Guy Gomis of recruiting firm Brainworks in arguing that CDOs with a business background but no technical experience often do not succeed as CDOs. However, there's an argument to be made that a strong line-of-business executive is well placed to excel as a Chief Data Officer, as s/he may be better suited to achieve specific business goals than a career engineer or architect.
There is no consensus on the mandate of a Chief Data Officer
What does a Chief Data Officer do?
Perhaps the lack of agreement on who makes a good Chief Data Officer is due to lingering uncertainty on what a CDO's mandate is, and on what qualifies as success in the role. Visual Capitalist describes a CDO's job as primarily comprising data integration, market innovation, and business optimization. Gartner has a similar description of a CDO's role combining revenue generation, risk mitigation, and cost savings. Most agree that CDOs should maintain a strategic, supervisory view. They should leave actual data management to technologists who work under them, while remaining focused on defining their organization's overall data strategy. For example, a CDO may decide that her company can save money and increase efficiency by moving data to a cloud warehouse such as Snowflake or Google BigQuery. She may make an ultimate decision on which vendor to move forward with, and she may decide to employ a an enablement tool like AtScale to minimize the business interruption of a cloud transformation, but she will leave much of the diligence and implementation to her technologists.
Additionally, it is unclear what CDOs should be held to as far as goals are concerned. NewVantage reports that only 13.5% of surveyed firms give their CDOs revenue generation targets; the majority instead viewed CDOs as influencers within an organization. However, Gartner notes that 36.5% of CDOs reported responsibility for P&L ownership. The most likely explanation for this lack of clarity is the fact that while most organizations have a decent idea of what value they want to get from the data they store, organizing that data to achieve the desired end result has never been straightforward. Storing vast amounts of data can be complex and expensive. Different departments that want to utilize data may wish to do so using different business intelligence tools. The amount of time it can take for business users to receive insight from a specific query can take months, which renders that query's output obsolete.
Debate exists on whether a Chief Data Officer should own a P&L
Conclusion – Chief Data Officers are leading Enterprise Cloud Transformation:
Ultimately, Chief Data Officers' top-level goal should be to minimize the above challenges so their organization can effectively utilize data to solve critical business problems. There are a number of ways to accomplish this, but the most prevalent will likely be cloud transformation of data storage. Gartner indicates that CDOs will want to explore the performance and fiscal benefits that cloud data warehouses such as AWS or Azure provide over traditional on-premise implementations. These projects will likely begin slowly, with the trialing of multiple vendors for a certain part of an enterprise such as finance or eCommerce. Over time, cloud transformations will accelerate to encompass larger proportions of an enterprise's data as a preferred vendor is selected and positive results are delivered to the business.