Analytics governance goes beyond security and access control. Consider how to create a level of centralized control and consistency that lets data leaders empower business groups to build their own data products while retaining a single source of truth for key enterprise metrics and safeguarding critical data assets.
Analytic Governance that Accelerates Insight Creation
The goal of every data-driven organization is to accelerate the rate of insights. This means democratizing data access and empowering data consumers to innovate and participate in designing new data products. An AtScale Semantic Layer provides a platform for policy creation and enforcement that enables centralized governance of standards, definitions, cloud resource consumption, and query performance – while supporting decentralized creation of data products and insight generation.
Access Control that Empowers Data Consumers
AtScale seamlessly enforces data access control policies based on existing user authentication and policy management processes. Users authenticate using the BI tool of their choice, passing credentials to AtScale with a native connection to the semantic layer. As data consumers query data platforms through the model, AtScale enforces cloud data access control policies.
Centralized control of data access empowers organizations to decentralize data product creation – letting work groups innovate and create new interactive analytics experiences while ensuring data assets are protected.
Integrate with Enterprise Data Fabric
Integrate with data catalogs and other platforms to share definitions and metadata across the enterprise data fabric. Enable a new approach to tracing business lineage of calculated data features. Increase discoverability of models and data products across the organization.
Embrace a Composable Analytics Strategy
Manage analytics building blocks, including pre-built models, metrics calculations, conformed dimensions, and engineered features. Let authors of new data products compose new solutions using building blocks rather than starting from scratch every time. Apply centralized control over building blocks to ensure consistency across all data consumers.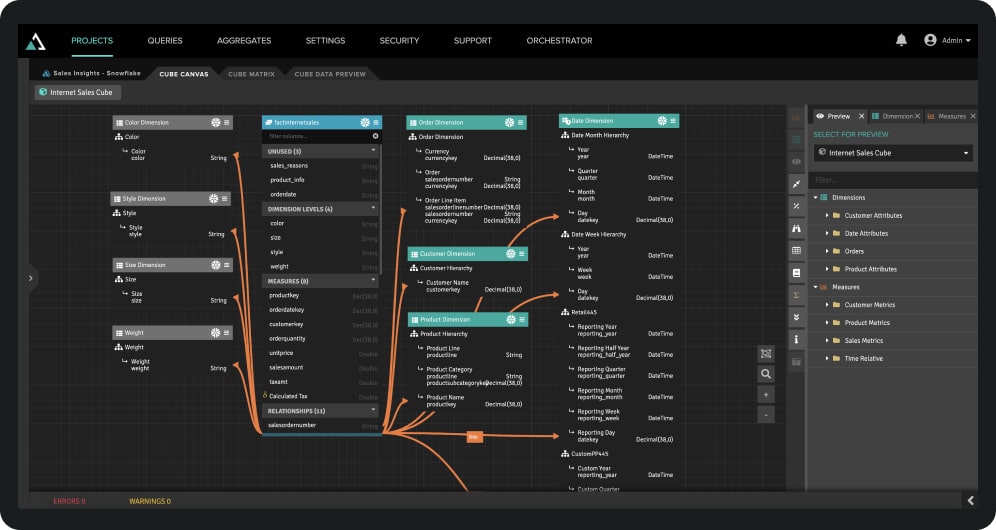 Data Platform Integrations
Enforce access control policies for cloud data.