AtScale empowers Tableau users with full multi-dimensional analytics on live cloud data with no manual data engineering or data movement.
AtScale + Tableau
AtScale is a semantic layer for BI and Data Science on cloud data platforms. When you combine Tableau's industry-leading visualization front end with AtScale's leading semantic layer, your BI and data science teams get access to "live" cloud data within the tools of their choice.
Blazing Fast Tableau Queries on Live Cloud Data
With AtScale, Tableau's direct connections perform as well as a data extract. AtScale delivers "live" Tableau queries interactively, regardless of the size or location of your data. Business users can query billions of rows of data without moving it, making integration of new data sources instantaneous and free from coding and ETL.
One Version of the Truth
Build and manage a universal set of business-oriented data models that establish a single source of truth for all data consumers. Expand data literacy by making models reusable and easily discoverable. Encourage self-serve BI with enterprise-wide visibility to modeled data available on Power BI, Excel, Tableau, and Looker.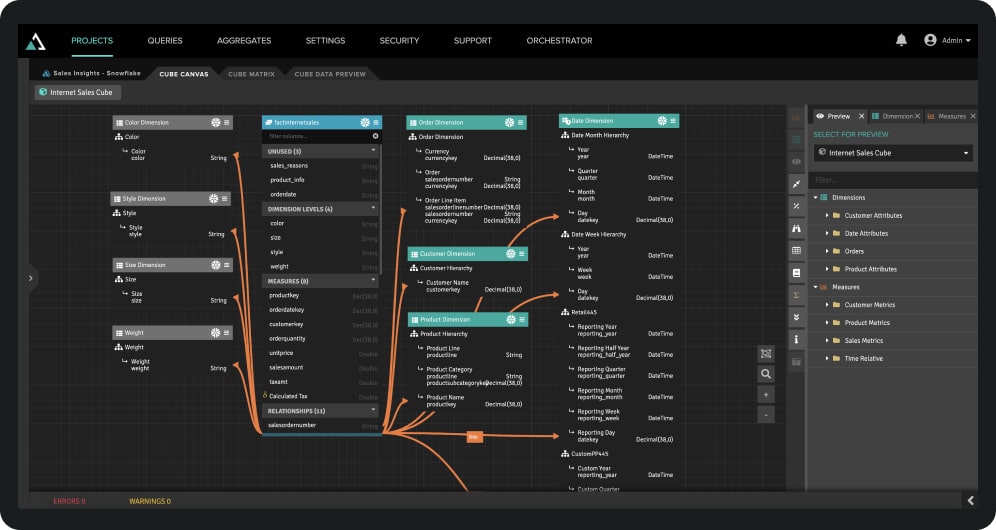 Live Connections to Cloud Data
Deliver lightning fast performance to live cloud data sets with no extraction of data ingest. Powerful query virtualization and AI-driven cloud orchestration takes full advantage of modern cloud data platforms while optimizing resource consumption and performance for BI use cases. Deliver secure, governed access to cloud data.
Rakuten Accelerates Query Performance and Modernizes Analytics Program
AtScale acts as an abstraction layer for Tableau-based analysis, delivering high performance, dimensional analytics on live Snowflake data. AtScale let Rakuten migrate legacy Microsoft SSAS-based OLAP to a modern cloud-first infrastructure using Tableau for data visualization.