Welcome back to our weekly Data & Analytics News Roundup series for April 23rd! What stories have been on your radar? In this edition, we share our top picks.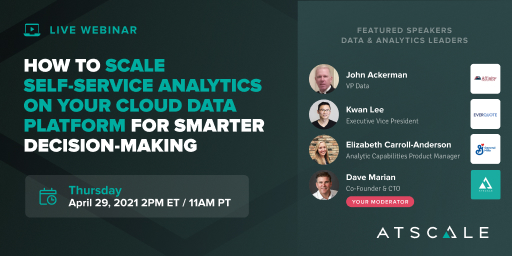 Before we get into this week's stories the AtScale team is excited to share that you are invited to join us for a webinar, "How to Scale Self-Service Analytics for Smarter Decision-Making." In this webinar, you will learn hear first-hand experiences using data as a strategic asset to drive smarter decisions including topics such as:
Treating data as a product, not a project
Architecting for scalable, governed self-service
Sharing data both inside and outside the organization
Strategies for promoting data literacy.
Interested in learning more? Register today!
By Michelle Knight
Dataversity 
What impact does a "data governance mindset" have on your organization? Michelle Knight explores the risks, rewards and lifecycle.
By Forbes Expert Panel 
Forbes Tech Council 
What buzzwords can we say farewell to in 2021? In this article, tech leaders discuss "Digital transformation", "Blockchain Tech" and the "New Normal".
By Daphne Leprince-Ringuet 
ZDNet
"At the heart of the framework is a hierarchy comprising four levels of risk, topped by what the Commission describes as 'unacceptable risk': those uses of AI that violate fundamental rights, and which will be banned." In this article, Daphne Leprince-Ringuet explores Europe's view on AI.
***For more big data and analytics news stories and for information on AtScale, visit our blog at www.atscale.com/blog, and follow us on Twitter (@AtScale) and LinkedIn. ***