Leverage native DAX connectivity between AtScale and Power BI to integrate semantic layer and supercharge query performance on live cloud data
AtScale + Microsoft Power BI
AtScale is a semantic layer for BI and Data Science on cloud data platforms. AtScale and Microsoft jointly developed a DAX connector that lets AtScale communicate natively with Power BI to deliver full multi-dimensional query support on live cloud data.
Powerful Multi-dimensional Analysis
Leverage native DAX connectivity for full multi-dimensional analysis on live cloud data. Interact with AtScale semantic model within Power BI's modeling utility. Full impersonation support passes user credentials to AtScale semantic layer for security and governance policy enforcement.
One Version of the Truth
Build and manage a universal set of business-oriented data models that establish a single source of truth for all data consumers. Expand data literacy by making models reusable and easily discoverable. Encourage self-serve BI with enterprise-wide visibility to modeled data available on other tools including Excel, Tableau, and Looker.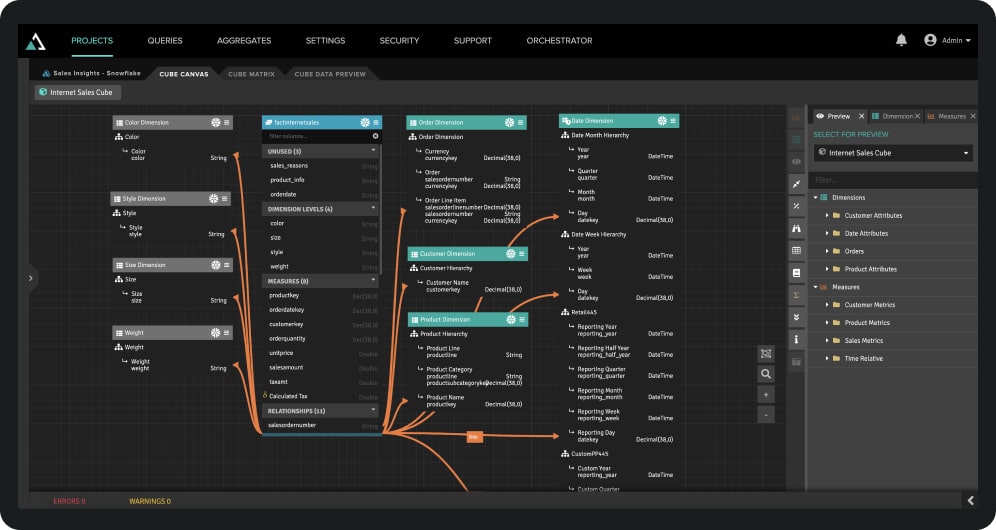 Live Connections to Cloud Data
Deliver lightning fast performance to live cloud data sets with no extraction of data ingest. Powerful query virtualization and AI-driven cloud orchestration take full advantage of modern cloud data platforms while optimizing resource consumption and performance for BI use cases. Deliver secure, governed access to cloud data.
Customer Story
Tyson Foods