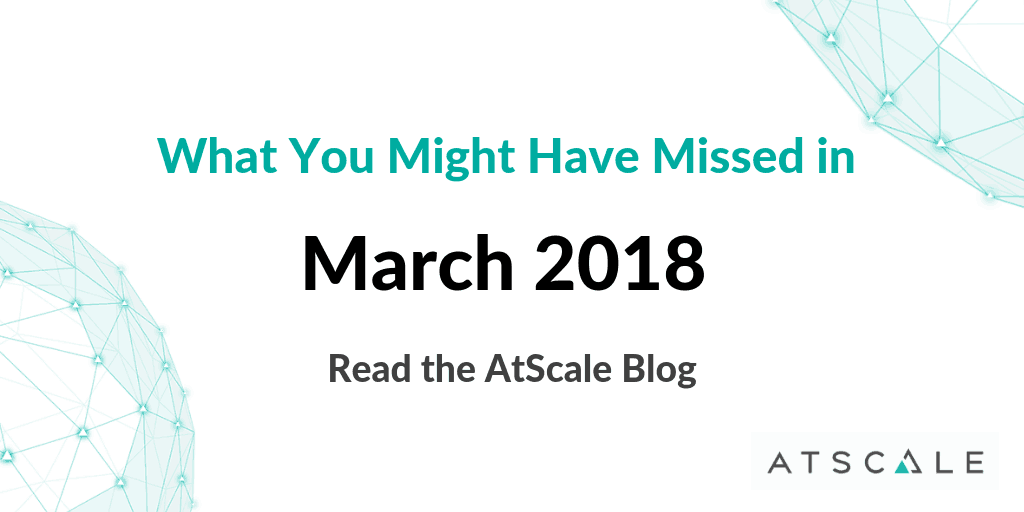 March is gone and Spring has arrived, at least for many of us. A lot happened in March, and we certainly don't want you to miss out on what's big on big data. Without further ado, here is what you might have missed in March.
Strata Data San Jose March 2018 Musings: Gartner's Sanjeev Mohan offers his take on the themes that vendors centered on at this year's Strata event in San Jose. It begs the question, what is the future of Hadoop?
BI Bake-Off and Battling the Opioid Epidemic: Not to be outdone, Cindi Howson offered her perspective on the annual BI Bakeoff at the Gartner BI & Analytics Symposium. This year the bake-off's task centered on solving the opioid crisis.
How to bring BI and analytics to modern nested data structures: Nested data structures are a boon to modeling, storage, and query performance, but pose challenges to traditional BI tools. Here's how to overcome those challenges.
The data lake continues to grow deeper and wider in the cloud era: CDOs and CIOs face three major challenges with their data lakes: how to migrate their users, how to live with a hybrid infrastructure for a while, and how to future-proof their data platform.
How Leadership Can Create A Data-Driven Culture: The amount of data doubles every two years. As a result, we will reach 44 trillion GB of data by 2020. With this amount of data, it is important to have a management team that will understand and invest in big data. Here is an article that can help leadership create a data-driven culture. Also, check out the 451 Research white paper on how to be more data-driven.
Six trends shaping IT cloud strategies today: According to a Forrester Research, the Public Cloud Market will hit $178 billion in 2018. And for the first time, cloud adoption in enterprises will exceed 50%. Multi-Cloud is a strategy many enterprises are adopting well. This article shares the key strategies that shape cloud adoption today. To understand the maturity of the big data and cloud space, check out this webinar.
Big Data Maturity Survey: The industry's first multi- year big data maturity survey was released recently. The report summarized enterprise trends for the last few years. To see where the market is going, check out this webinar.
Hope these resources are helpful for you and your team. Until next time, keep calm and Big Data On! There is always a lot is going on in Big Data… make sure you don't miss the important news. Subscribe to this blog and subscribe to AtScale's LinkedIn page.